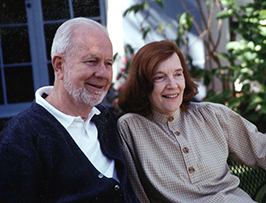 Special appreciation to Jon and Lillian Lovelace for their generous support of Women Beyond Borders from its inception. It is in their honor that we dedicate the Women Beyond Borders site.
To all those who made Women Beyond Borders possible, we are forever grateful. Appreciation goes to all the participants including: artists, curators, coordinators, sponsors and directors of institutions, who have spent countless hours organizing unique and compelling exhibitions around the world. This collaborative spirit is at the heart of Women Beyond Borders. Curators and Coordinators
Helping to launch the WBB journey were Nancy Doll, Director Weatherspoon Art Museum UNC and Marla Berns, Director, Fowler Museum UCLA.
Also deeply appreciated are the early participants:
Isabel Barbuzza, Ciel Bergman, Sky Bergman, Rose Bilot, Judy Dater, Beverly Decker, Mary Heebner, Evelyn Jacob, Anna Jud-Hallauer, M. Helsenrott Hochhauser, Alice Hutchins, Saritha Margon, Penny Paine, Elisse Pogofsky-Harris, Tamarind Rossetti-Johnson, Elena Siff, Joan Tanner, Maria Velasco, Victoria Vesna, Judy Weisbart, Seyburn Zorthian.
Logo Design: Stephania Serena
Photography & Video: Wayne McCall, Bill Dewey, Johanna Demetrakas, Frank Serena, Saritha Margon, and Karen Nedivi
Web Design: BitVision Technology Group – Alison Bradley, Declan Blasini