The beauty of WBB was found in the spirit of support evidenced around the world as women came out of isolation into relation.
– Lorraine Serena, WBB Artistic Director
The first boxes arrived in late 1995, filling Lorraine's studio with the spirit and imagination of their creators. No one had any idea what to expect. "Let things fall into place," advised Liz Brown, then curator of the University Art Museum at UCSB. "This project has a life of its own. That's the beauty of it." A spirit of cooperation cut across cultural, religious, and economic boundaries. Artists drew from their own traditions, with each box becoming a distinct portrait.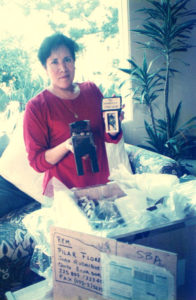 Mexican boxes represented ornate reliquaries, encrusted with pigment, gold and memorabilia. The Argentinians deconstructed boxes to create sculptural balancing acts. The Parisian works were sleek and abstract. In Africa, a woman carved the box surface into a body of a woman within which slept a tiny infant. The Israeli group added metal, concrete, and wire, revealing endless conflict. Together, all the boxes created a visual anthology of women.
A world map began to chart the journey with red push pins, identifying participating countries. Within each country, artists came together, perhaps because of WBB's simplicity and unrestricted quality. A complex web of communiqués, enabled by the onset of the internet, swiftly aligned us with one another. Participants arranged an array of activities, including adjunct exhibitions, workshops and discussion groups.
Suvan Geer, artist visionary, described Women Beyond Borders before it was launched as "a gathering together of women so they can identify themselves, which is, speak for themselves. It is an opportunity for reclaiming identity on a global scale by looking at the codes of self-imaging in various cultures. The importance of this action in a global society cannot be underestimated. Dialogue, which begins with the silent speaking for themselves, expressing who they are, their experience or their desires, opens an avenue for exchange and communication. It is an opportunity to alter and inflect the ongoing dialogue of signs and symbols that seek to define and refine who we are. It is in a very real sense a revolutionary act."
Suvan continued, "Women Beyond Borders is a step in undoing the isolation and hopelessness of silence. Documentation will never fully reveal what this dialogue will mean to participants. That is to be expected and in no way diminishes what this gathering together will signify to the world. Because every revolution is people. Not crowds or movements or armies, but individuals coming to a common understanding that they have power. That they can change the world. And it always begins with knowing who we are."
Reference:
Suvan Geer "Pieces of Dialogue"
BOXES CONTINUE TO ARRIVE