The Aspen Times July 4, 1991
Lori McCoy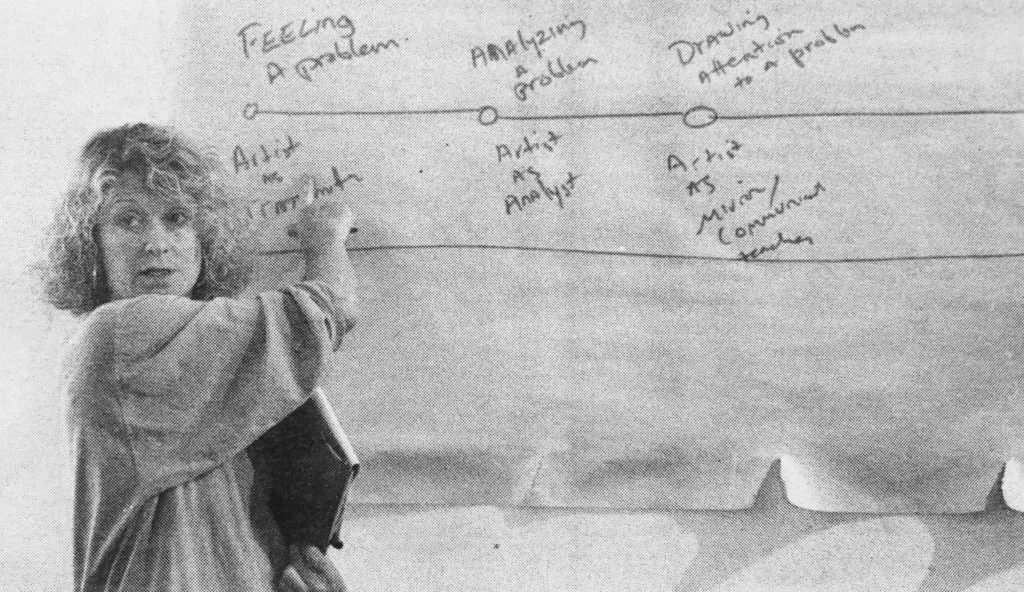 This paradigm shifting workshop, Making Art as if the World Mattered, inspired Lorraine Serena to pursue a Public Practice project with several other artists. After a couple months of determination and collaboration, the Women Beyond Borders project was conceived.
ARTISTS FROM AROUND THE COUNTRY EXPLORE A CHANGING ROLE FOR ART
Imagine a world in which the cry of "Art for art's sake alone" is heard as loudly as "Art for society's sake."
Imagine art created not so much for sale, as for a seed – the seed of a new social consciousness.
Imagine art with a greater function than creating visual simulation or an investment value.
Imagine art with a heart – and a conscience – instead of a dollar sign.
These hopes and dreams are the motivating factors behind why writer/critic Suzi Gablik and performance artist Suzanne Lacy have brought together artists from all over the country for a workshop entitled, "Making Art as if the World Mattered."
The workshop is being held this week at the Anderson Finch Arts Center as part of an interdisciplinary program to bring artists of different media together.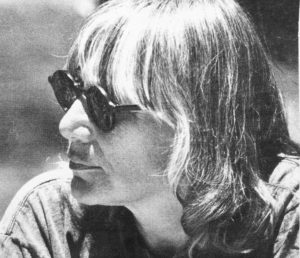 CHANGING WORLD
"The imperatives of a rapidly changing world are overwhelming. Art as a positive and compassionate response is becoming urgent. Much of modern art seeks to maximize profit rather than to serve social ends," according to Lacy.
Using the issues of the Aspen community as a model, the 16 workshop participants are exploring how to use their art to address the needs, issues and problems of any community, including the global one.
As part of the workshop, the participants spent time in Aspen searching for issues and needs of the community. They also listened to several speakers from the Roaring Fork Valley who gave their perspectives on the area.
The goal is for the participants to turn that information into a proposal for a work of art — a work that creates an awareness of a need, or points toward a solution to a problem, or motivates the viewer to act in a positive way on an issue.
'ECO-CENTRIC'
It is to be art not just for art's sake, but for society's sake.
It is to be art not just for profit, but for providing awareness. It is to be art not based on the "ego-centric," but the "eco-centric," as Gablik calls it.
Gablik believes the paradigm or societal consciousness of recent times, such as consumerism, commercialism, conflict, and any other mentalities which are based on exploitation, are headed for a "dead-end course."
What is needed in the world and in art, according to Gablik, is a paradigm shift away from "exalted individualism."
"We simply cannot stay committed to our ideals of freedom and self-expression while everything in the world unravels," she writes in an article entitled "Changing Paradigms for the Artist."
PARADIGM SHIFT?
Gablik and Lacy both believe the paradigm is shifting away from the old one, and they hope the new one will embrace a "new kind of freedom" in which people are free to help others while taking care of themselves.
They note that already some artists are becoming disenfranchised by the art world and are seeking some other basis to fulfill the commercially defined idea of success.
"The skills (they got out of the workshop) are secondary to the attitude shift and (giving) them validation and support for their disenfranchised thoughts," said Lacy.
The new paradigm Lacy and Gablik envision and which they are trying to help create in others is based on "a condition of understanding the world in terms of the web of connectedness, rather than in terms of the individual and separateness," Gablik explains.
She adds it would be a paradigm "Focusing on processes and relationships between things, rather than on the things or products themselves."
At the end of the intensive, week-long workshop, Lacy and Gablik hope the participants will take away with them not only a new awareness and empowerment, but also a way to pass that awareness and empowerment on to others through their art.