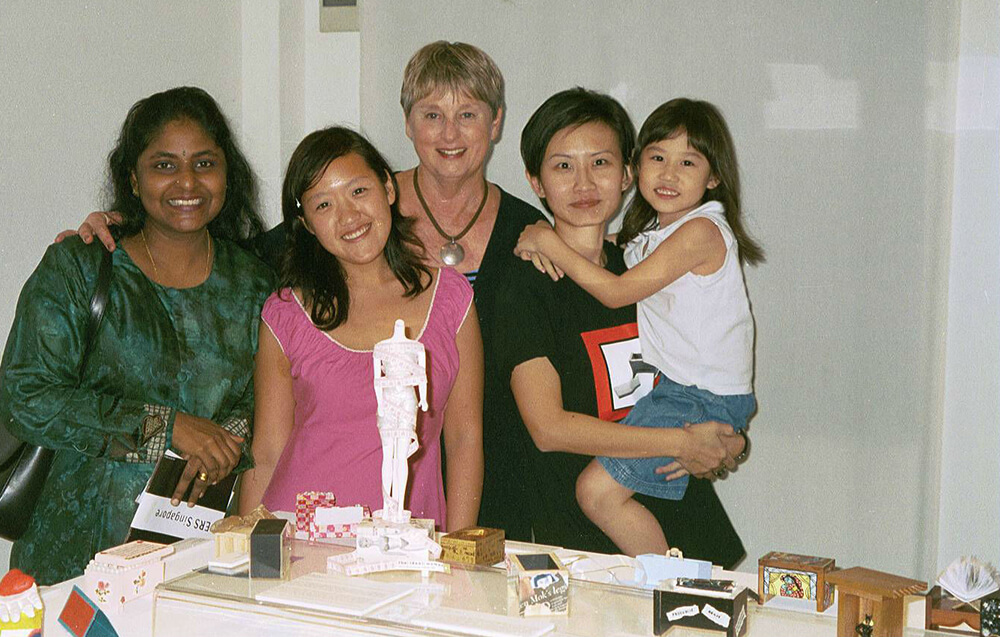 Sculpture Square
Singapore
March 8 – May 13, 2001
Edmund Cheng, Founder and Director
Patricia Chen, Founding General Manager
Joyce Fan, Assistant Curator
Susie Wong, Assistant Curator of the Singapore Art Museum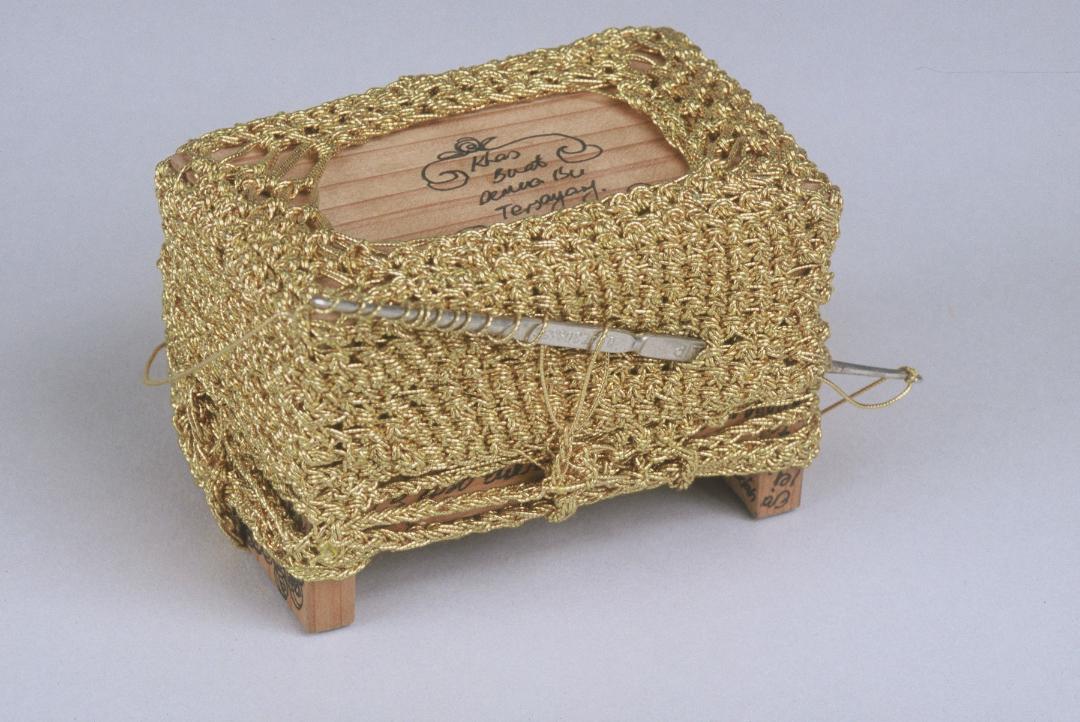 Siti Annazia Hamsani – Journey of Love – 2001, Singapore
Journey of Love is about the relationship between my mother and me. It explores the all-consuming physical and psychoanalytical paradoxes seen in this relationship between mother and daughter, and the problem-solving exercises that may inform one's point of view about relationships, change, and seeing oneself among others. This exploration leads to the use of the needle and thread, and the act of weaving which symbolizes the journey in mending of a relationship. My mother is my best friend and she is loving, intelligent, patient and reasonable. To weave is to tighten the ties between us. Each act of weaving symbolizes my efforts to mend my relationship with my mother. The use of gold thread constantly reminds me of my mother's skin because she seems to glow with such warmth and health. The needle attached in-between the weaves with some of the thread wrapped around it symbolizes the act of weaving or repairing which does not end but continues on a more emotional level. The experience in working on the box was illuminating and therapeutic, offering me not only an opportunity to reflect on my life, but also it gave me the strength to be closer to my mother.
WOMEN BEYOND BORDERS: SINGAPORE STYLE
When Women Beyond Borders was shown in Singapore in 2001, the curators Joyce Fan and Susie Wong invited local artists to submit boxes that would interrogate individual identity in relation to a specific community – from as small as the family unit to as wide as the world. In response, several artists explored their experiences as a member of one of the many expatriate or minority sub-communities living in Singapore. Others reflected on the identity of women in contemporary society at large. One box by Prisca Ko, (shown below) was a collaborative box with 40 women,  which reveals the constraints faced by women living in Block Housing. Another box depicted the mending of a mother and daughter relationship using a crochet needle and gold thread. The objective was to discover who women are and what women want in our particular society. We directed women artists into first, self-examining their identity and space, and second, in the course of this journey, relating that to their experience with the community.
The Singapore exhibition consisted of three sections: a Curated Section featuring invited women artists, a Women's Communities Section with participation from KK Women's and Children's Hospital, Association of Women for Action and Research (AWARE), the University Women's Association of Singapore (UWAS) and the Singapore Council of Women Organization (SCWO) and an Open Section which feature creations by women from all walks of life. The first lady of Singapore, Madame Goh Chok Tong, was Guest-of-Honor.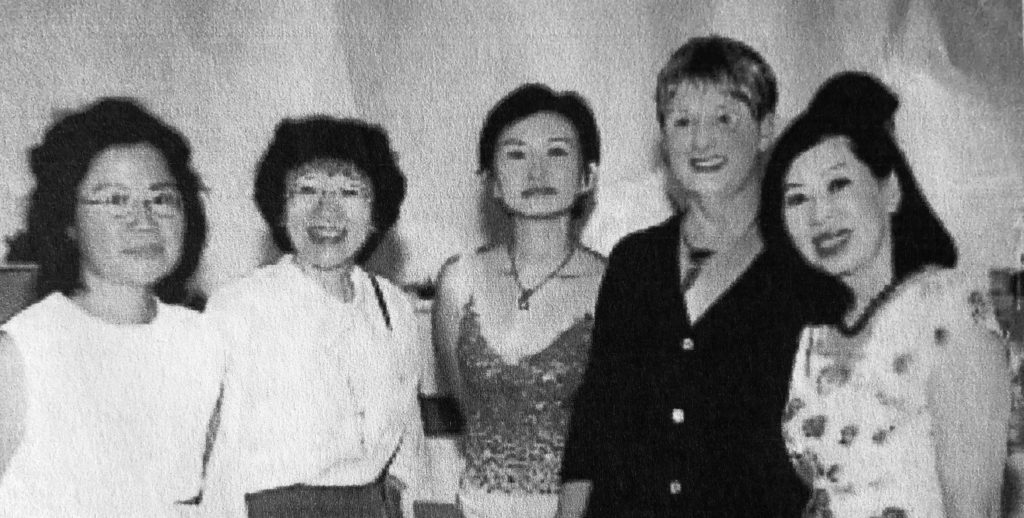 It's utterly prosaic, this box, until it falls into the hands of the artists… at which point the box is transformed, exploded, expanded, shattered, sculpted, pasted, painted, and reborn into an expression of a woman's identity.               
– Shanti Menon, East Magazine, Singapore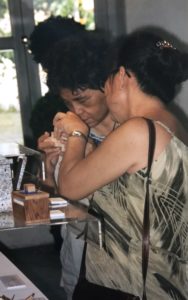 The women participants in Singapore created boxes in relation to a community, i.e. a collaboration with family, friends, a group of people, etc. The objective was to discover who women are and what women want in our particular society and context. Women first examined their personal identity and space, and second, related to their experience with the community, be it male or female. The community was engaged in the art making process, thus extending the collaborative nature of WBB. This process gave rise to a more comprehensive reflection of societal values, needs, wants and identity as a whole.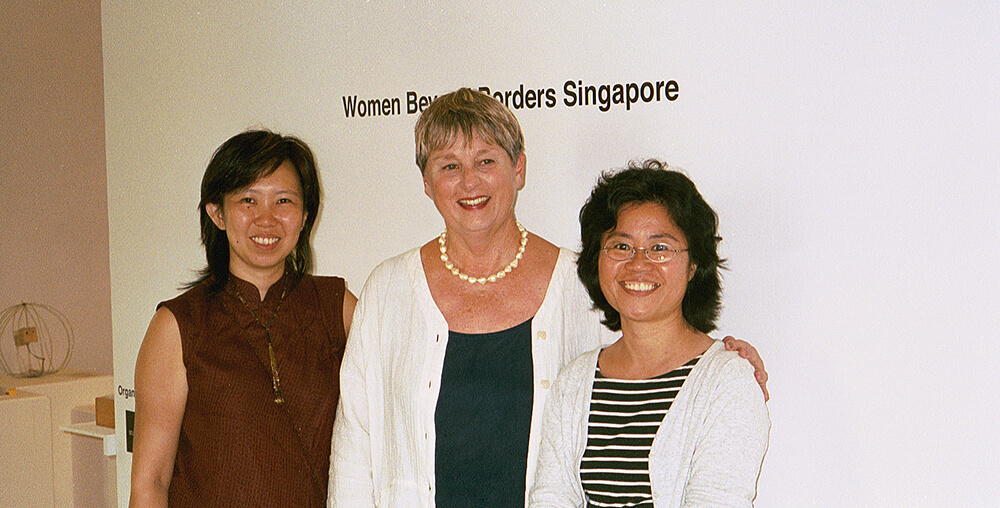 The WBB Exhibition in Singapore was held at Sculpture Square with an overflow of 125 new boxes. Adjunct projects reached out in several ways including:  local women artists, women from the KK Women's and Children's Hospital, the Association of Women for Action and Research, the University Women's Association of Singapore, the Singapore Council of Women's Organizations and an open section featuring women from all walks of life. These boxes were shown alongside the WBB collection of international boxes.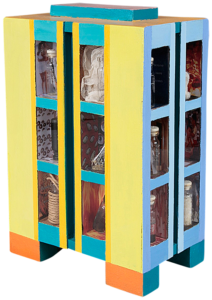 Prisca Ko – Constraints Faced by Contemporary Women – 2001, Singapore
This work seeks to explore and express the constraints faced by contemporary women who live in public housing apartments, also known as Housing Development Board (HDB) flats in Singapore. About 86% of Singaporeans are housed in these HDB flats. Like the vast majority, I, too live in a HDB flat and one of the personal constraints that I face is the lack of physical space. This inspires me to conceptualize the given wooden box as a block of HDB flats with many dwellers within. Each of the niches in the box represents a female dweller.
The different constraints faced, ranging from physical, emotional, mental, and social to religious realms, are reflected in the interior decoration of the units and the contents of the vials. Women from different phases in life; teenagers, singles, married with and without children, and retirees, were invited to participate in a survey, and their views are expressed collaboratively in this box.